BigBen KBOX 200W PARTYBTIPKBOX review: Full review
K-box is becoming increasingly popular in France and BigBen is one of the first to enter this market. That's why we test BigBen KBOX 200 W PARTYBTIPKBOXBluetooth speaker with two microphones for karaoke as well as presentations.
Design of BigBen KBOX 200 W PARTYBTIPKBOX
In terms of design, there is nothing really innovative. Indeed, we find a flat triangular prism design with good stability once the speaker is placed. It is practical, thanks to its two handles it can be carried. It seems quite suitable for this use.
Three rectangular faces are dedicated to the audio output, bass and structural strength. There are several buttons on the left side:
Turn on and off
Sound Effects (Treble/Bass)
Previous track, pause/play, next track
Turn on / off the backlight
Bluetooth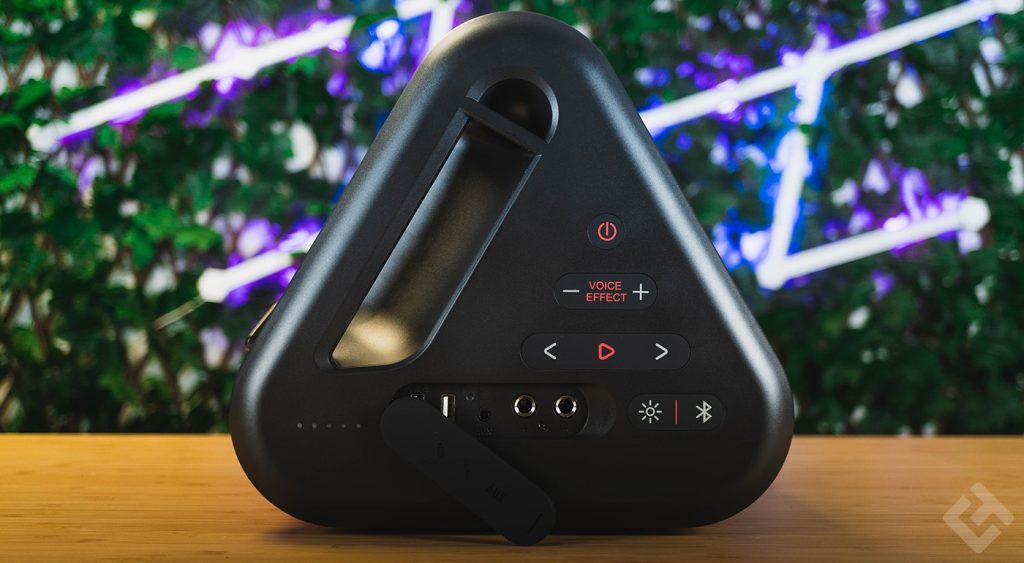 In addition, there are several connectors, for example:
2 x 6.5mm jack ports
2 USB-A 2.0 ports
1 x 3.5mm jack
On the right side is the power port connector. Other functions are also there, thanks to several potentiometers that allow you to customize the sound of the music and the microphone.
The whole body is plastic. In addition, silicone coatings make the case waterproof with IPX54 certification. In addition, a small RGB touch is offered on the front of the speaker, which allows you to play in the evening light and atmosphere.
Together with the dynamic we find:
Two microphones
1 x 3.5mm jack cable
1 power cable
BigBen KBOX 200W PARTYBTIPKBOX features
Model
BigBen KBOX 200 W PARTYBTIPKBOX
Connection

Wired 3.5mm jack
Bluetooth 5.0

connectors

2 x 6.5mm jack port
2 USB-A 2.0 ports
1 x 3.5mm jack
Two microphones
1 x 3.5mm jack cable
1 power cable

Buttons

Turn on and off
Sound Effects (Treble/Bass)
Previous track, pause/play, next track
Turn on / off the backlight
Bluetooth

Telephone function
Nope
Maximum power
200 watts
Water resistance standard
IPX54
BigBen KBOX 200 W PARTYBTIPKBOX sound quality
In terms of sound quality, this Bluetooth speaker is not bad, despite some shortcomings compared to Bluetooth speakers dedicated to sound, not karaoke. Indeed, for music lovers, turn to other Bluetooth speakers. However, if you're here for a banquet speaker, karaoke or presentation speaker at conferences, you've come to the right place.
When it comes to volume, it's strong. I would even say that it is ideal for providing music to a room of 40-50 m2.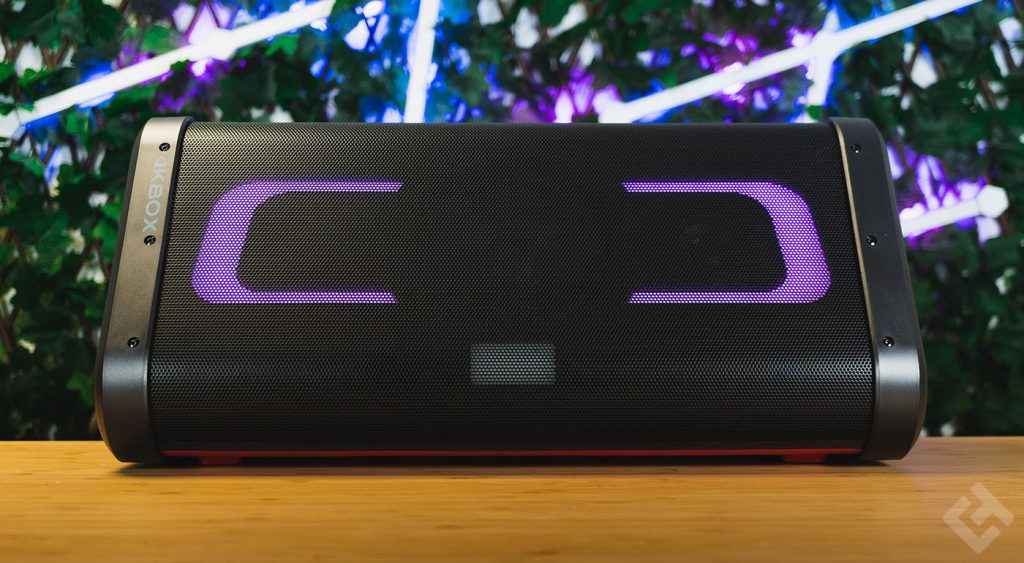 Indeed, the sound is not bad, far from it, but the bass is very strong. We feel like the subwoofer is physically blocked, which seems a shame. Good for the rest though, the highs aren't handled badly. In addition, it will be possible to customize the sound through the control buttons on the right side of the speaker. Manual sound customization is always better.
When the karaoke function, it's really not bad. The microphones are quite high quality. Granted, these aren't concert mics, but for a small conference, evening announcement, or whatever, they'll do the job just fine.
As for the settings of the microphone effects, they are playful, but nevertheless not transcendent. It will be possible to control the volume, echoes and put a fun effect of lower or higher volume.
BigBen KBOX 200 W PARTYBTIPKBOX connection
There are two types of connections with this speaker. First, it is wired using a 3.5 mm jack cable that connects the computer to the speakers. The second is Bluetooth with 5.0 connectivity.
The two USB-A ports are also used to transfer music from an external hard drive, SSD or USB key. It is a tangible relationship that offers opportunities to suit your circumstances and needs. But not everything will be solved with karaoke. You still have to search the internet for lyrics and get the beat under your skin.
All links are working fine. I didn't find any problems during our tests.
Small point to emphasize. For this case to be IPX54 waterproof and therefore moisture and splash proof, the silicone covers must be firmly attached. Also, don't pour water on it, it might not like it.
Autonomy of BigBen KBOX 200 W PARTYBTIPKBOX
The brand promises a playback time of 6 hours in this model. It is small in itself and felt throughout the test. Indeed, it will be difficult to do more with a 4000 mAh battery, backlight and maximum volume. Despite this, BigBen KBOX 200 W PARTYBTIPKBOX he fulfills his promises, but does not exceed them.
Charging is done using the supplied cable and the charging time is less than 1 hour 30, which is pretty decent.
BigBen KBOX 200 W PARTYBTIPKBOX review: Reviews
The BigBen KBOX 200 W PARTYBTIPKBOX is a pleasant Kbox speaker to use. However, while it's not too bad for listening to standard music, we'll mostly use it for karaoke. Its autonomy allows you to spend a small evening with music, but at some point you will need to charge it or use it plugged into an outlet.