HONOR MAGICBOOK 15 AMD: Features, Price, News!
Every year, high-tech companies launch laptops that can be used by professionals, gamers and even individuals. Chinese brand in 2022 Honor distinguished itself once again with its most modern computer.
It was officially released on June 20 HONOR MAGICBOOK 15 AMD (2022) It meets the expectations of various types of today's very demanding laptop users. This high-end computer has many impressive features. Discover this tech gem here through this spec sheet!
Key Features of HONOR MAGICBOOK 15 AMD PC (2022)
| | |
| --- | --- |
| Processor | AMD Ryzen 5 5500U |
| Graphics Cards | AMD Radeon |
| RAM memory | 8 GB DDR4-SDRAM |
| Internal memory | 512 GB SSD (NVMe, PCI-Express) |
| Wireless connection | Wi-Fi 6 (ax), Bluetooth 5.1 |
| Battery life | Li-ion polymer 56Wh |
| Screen size | 15.6-inch IPS screen |
| Description/Screen | 1920 x 1080 pixels |
| Operating system | Windows 11 Pro |
| Weight | 1540 grams |
| Dimensions | 357.8 x 229.9 x 16.9 mm |
HONOR MAGICBOOK 15 AMD (2022) computer processor
HONOR MAGICBOOK 15 AMD PC (2022) is designed for versatility. The manufacturer has equipped it for this AMD Ryzen 5 5500U processor. It is a low power processor with 6 hyperthreaded cores (15W). The PC frequency is 2.1 GHz and the device can reach 4.3 GHz when boosted.
With these specs for the processor, the HONOR MAGICBOOK 15 AMD (2022) laptop can be used for:
Basic office tasks (Office, Google Docs);
Browsing the Internet;
flow;
Photo editing and video editing etc.
However, it is possible to use this computer occasionally complex tasks graphic realizations or even like playing. He is always very fast. However, it should be noted that the CPU operation is somewhat noisy.
To optimize its effectiveness, the manufacturer equipped it with a high-performance cooling system consisting of two heat pipes. Thus, by providing a large volume of air, it ensures the dissipation of heat.
Graphics card
A AMD Radeon graphics card integrated into the processor of this computer to ensure high performance. It optimizes efficiency and ensures excellent execution speed of various tasks. In addition, it shows high energy efficiency and more than exceptional graphics processing capabilities to meet complex needs.
In addition, it is designed with a computer operating system Windows 11 Home 64 bit aesthetics and ergonomics allow you to have a beautiful and practical work area.
Memory capacity of HONOR MAGICBOOK 15 AMD PC (2022)
HONOR MAGICBOOK 15 AMD (2022) laptop has RAM memory 8 GB DDR4-SDRAM. It is a dynamic random access memory that is very popular among various manufacturers such as Chinese hardware manufacturer HONOR. Its frequency reaches 3.2 GHz. It provides RAM memory with this frequency and this working area transmission efficiency increased to 50% to allow the computer to be very fast during use.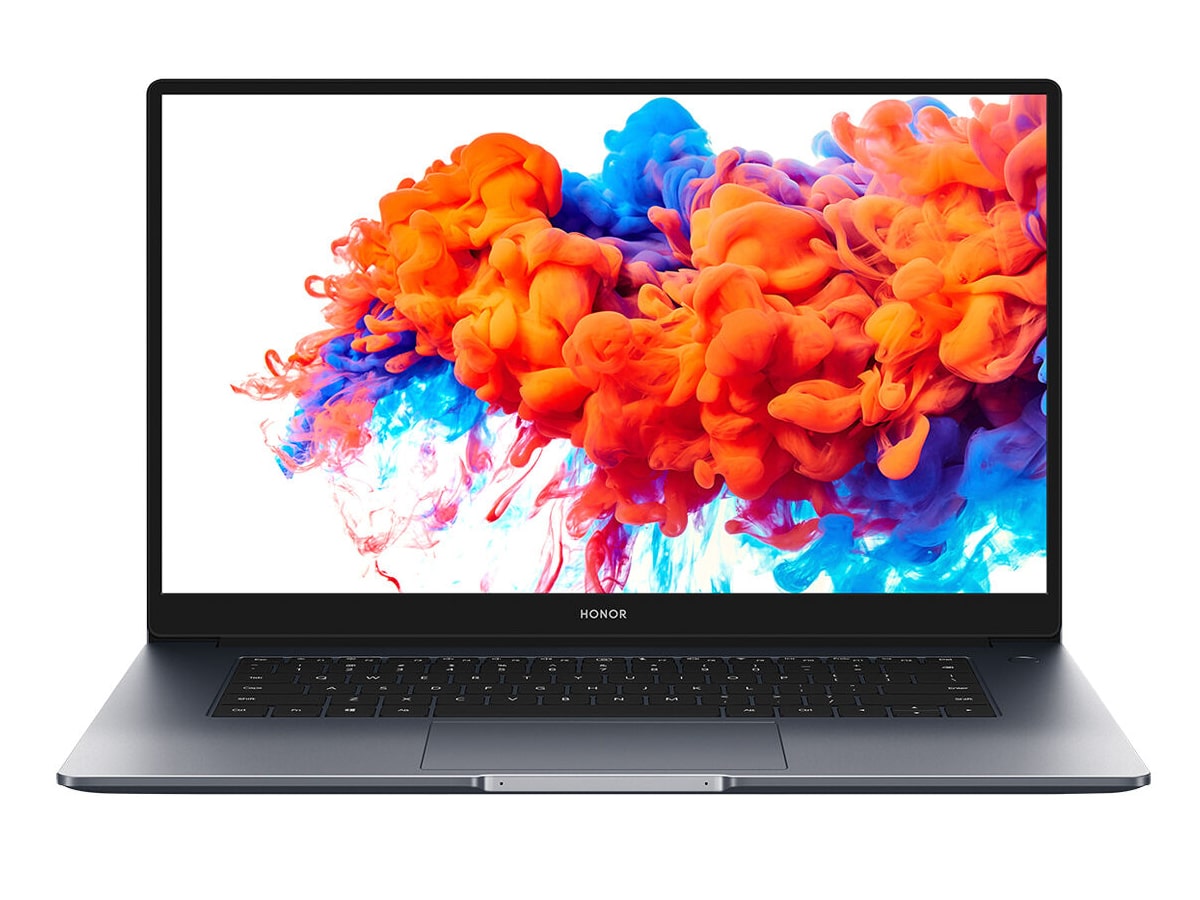 Also, it is a computer's hard drive an SSD NVMe PCI-Express 512 GB. Although most computers in recent years have been equipped with at least 1 TB of hard disk space, this space can seem like a limitation. However, it is still possible to use an external hard drive to store your files.
Screen and keyboard
The manufacturer HONOR MAGICBOOK 15 AMD (2022) computer a screen of IPS technology of 15.6 inches. It reduces the border thickness limit of traditional computers to have a bigger screen. His definition 1920 x 1080 pixels and its resolution is 141 dpi. In addition, it is certified by TÜV Rheinland. Indeed, it reduces blue light by eliminating flicker to protect the user's eyes.
Also, it provides a very smart working experience with the computer screen multi-screen collaboration. This allows you to have up to three different programs on the desktop. Thus, you have the opportunity to work simultaneously on each screen without closing the program.
As for the keyboard, it doesn't have a numeric keypad. So there is a big gap on each side. Hides one of the keyboard keys pop-up camera a webcam that is permanently turned off when not in use. In addition, if typing is pleasant enough, we regret that the keyboard is not backlit.
In addition, it functions as a power button fingerprint reader used to lock or unlock the computer.
Connection
HONOR MAGICBOOK 15 AMD (2022) laptop has many ports input and output. In particular, the chassis has the following ports:
1 USB 3.2 Gen 1;
1 USB2.0 port;
1 HDMI port;
1 USB-C port for charging;
1 x 3.5mm jack input.
It provides various USB ports excellent transmission speed. This makes it very easy to transfer large files from smartphone or tablet to computer.
In addition, it consists of a wireless connection Wi-Fi 6 (ax) and Bluetooth 5.1. With 2.4GHz/5GHz dual band and 160MHz bandwidth support, the user gets access to super fast internet.
Battery life and audio
HONOR MAGICBOOK 15 AMD (2022) laptop has better performance thanks to its battery. Li-ion is of the polymer type and has a 56Wh power. It can provide the computer with energy for about 11 hours. Also, 65W charger provides the fastest charging that accompanies a laptop.
In addition, the computer has two speakers located under the chassis. Thus, sound may depend on the surface on which it is deposited. Nevertheless, it is possible to use the program when it is not very pleasant to improve the sound quality.
Design and price
HONOR MAGICBOOK 15 AMD (2022) has an aluminum chassis and comes in Space Gray color. The front part adopts a diamond cutting process highlighted by a blue line. Its dimensions 357.8 x 229.9 x 16.9 mm and its weight is only 1.54 kg. It is a compact and lightweight computer that is perfect for travelers.
You can take advantage of the promotional offer to get it €549.90. However, there may be an increase when the purchase is made through other channels.
Finally, you should remember that PC HONOR MAGICBOOK 15 AMD (2022) it is a high-end laptop with very good performance. It provides excellent performance with its features and can be used by different types of people. Do not hesitate to order!