Alibaba vs Amazon, a battle between two e-commerce models
The Chinese giant and the American giant compete around two visions of online commerce: pure marketplace versus retail logic.
Alibaba is often mistakenly referred to as the "Amazon of China". The shortcut is easy because both e-shops dominate their industry. Let's look at the numbers for 2016: Amazon sales were $136 billion, a 27% increase over 2015. Sales at Alibaba increased by 56% in one year to $23 billion. Amazon has over 310 million customers a year. They were 454 million on Alibaba, mostly Chinese.
Distributor versus market
The main difference between these two giants is in their business model. On the one hand, Amazon makes most of its revenue by selling and shipping the products it lists. "Amazon buys and resells stock. That's retail logic," said Yves Marin, director of consumer goods and analyst firm Wavestone.
Admittedly, Amazon does about 50% of its sales through its marketplace. But even so, Jeff Bezos's firm retains control through Fulfillment by Amazon (FBA), which allows merchants to store their products in its warehouses. "In the fourth quarter of 2016, FBA units accounted for more than 55% of total units sold by third parties," the group announced in early 2017.
As a retailer, Amazon also manufactures some of its products, such as e-readers, tablets, and some smartphones. It also has a fleet of trucks, planes, boats and soon drones. Since June, the sofa from Seattle has taken a position in Paris with daily shopping delivered within an hour or two with Amazon Prime Now. Or Amazon Fresh, a fresh produce delivery service, was tested in Berlin at the beginning of May. In late January 2017, a $1.5 billion investment in its fleet of cargo aircraft was also announced. Amazon relies on its logistics infrastructure to deliver faster. This requires multiple warehouses around the world.
Thanks to this model, Amazon has built a solid reputation among its customers for good quality control. The other side of the coin: Amazon's headcount (300,000) far exceeds that of Alibaba, which has "only" 50,092 full-time employees. And Amazon has announced the creation of 100,000 jobs in the United States over the next 18 months.
The result of this model, which combines heavy investment and low prices, is that Jeff Bezos' group has long sacrificed its profitability in favor of growth. But the tide seems to be turning. Amazon is increasingly controlling its costs. It even announced 8 in early 2017c a consecutive quarter of profitability, especially thanks to the good performance of its online sales, but also its cloud division with Amazon Web service (AWS). In 2016, the company quadrupled its profits to $2.4 billion in net income.
In turn, Alibaba connects buyers and sellers on its marketplace, just like Ebay. Its annual business volume, that is, all transactions that take place on its platform, is 547 billion dollars. The site has more than 20 million active sellers. The number of monthly mobile users is 507 million. And 40 million parcels are sent every day.
But Alibaba only plays the role of an intermediary. "It's more of a technical platform, like a virtual mall," says Yves Marin. Alibaba does not control the storage, purchase or shipping of products. This allows for greater margins and lower costs. Its net income in 2016 was 5.9 billion on turnover of 23 billion dollars. Its model is divided into three main segments: Taobao (CtoC) for individual sellers and SMEs, Tmall (BtoC) for major brands and distributors, and Alibaba (BtoB) for wholesalers. "The difference between Amazon and us is that Amazon is more of a self-managed, buying and selling empire," Alibaba founder Jack Ma explained on CNBC last January. Our philosophy is that we want to be an ecosystem.
Against subscription flow
How do the two giants get paid? Again, the models are different. Alibaba's commission rates are low. "On average, depending on the type of product, we get between 1 and 5%. Other markets are between 12 and 15% in Europe," said Sébastien Badault, CEO of Alibaba France, speaking about Tmall (BtoC).
In the sale itself, the Chinese group therefore receives very little. It compensates for this with additional revenue: the use of the cloud and its audience, especially through its largest entity, Taobao (CtoC), founded in 2003. The mechanism is simple. Taobao has a large audience and monetizes through highly targeted commercial ads. Taobao does not take commission from sales. Sellers buy banner ads and keywords to get more visibility on the site. "Alibaba's power is targeting its 454 million customers alone," summarizes Sébastien Badault.
On the contrary, the main advantage of the American giant is the Prime subscription. It's a $99/year US subscription that entitles you to free and unlimited delivery in less than two hours on nearly 50 million eligible products in 2016 (+73% compared to 2015). The number of Prime subscribers is kept under wraps, but according to research by Consumer Intelligence Research partners, the number will rise to 80 million in the first quarter of 2017. These Prime customers spend more than non-subscribers: $700 versus $1,300 per year. This volume of subscribers will make up 60% of the total buyers of Amazon.com in the United States.
| Revenue by segment in billions of dollars | Amazon | Ali Baba |
| --- | --- | --- |
| Main Trading Income | 120.81 | 19.45 |
| An increase compared to 2015 | 24% | 45% |
| Cloud revenue | 12.22 | 0.97 |
| An increase compared to 2015 | 55% | 121% |
| It comes from digital media and entertainment | CN | 2.1 |
| An increase compared to 2015 | – | 271% |
| Other income | 2.95 | 0.435 |
Western versus emerging markets
"Our leverage and strengths are emerging markets," analyzes Sébastien Badault. The group is betting on Asia for a simple reason: most households are still not connected to the internet. According to the director of Alibaba France, only 30% of Indians and 50% of Chinese are connected today. Growth is yet to be seen, so it must be bought. For this reason, the Chinese giant also invests in markets similar to its own. In 2016, it bought Lazada, a Southeast Asian e-commerce platform with presence in six markets including Vietnam, Thailand and Singapore, for $1 billion. "This is a warehouse of 650 million customers in the long term." The group's dream is to create an ecosystem of 2 billion customers. And Alibaba will be responsible for managing the relationship between customers and sellers, brands and products.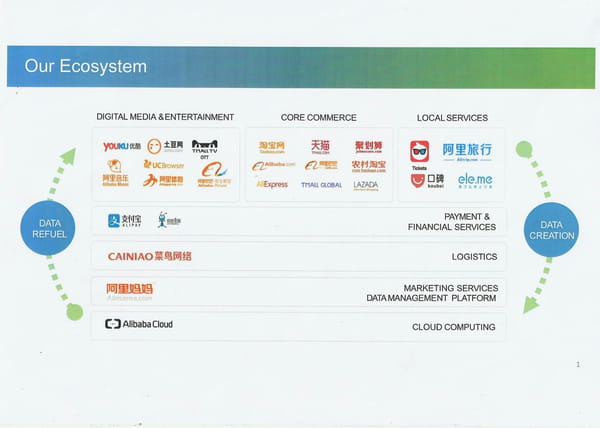 On the other hand, Amazon has to its credit a very sophisticated craftsmanship in its supply chain, advanced cloud infrastructure services and a wonderful content catalog associated with the Kindle Fire range, which is well suited for the US and European market. In Europe, in 2016, compared to 2015, it achieved a turnover of 21.62 billion euros with an increase of 16%.