20 Chrome Extensions to Boost Your Laziness!
Being lazy means trying to save time by producing as quickly and with as little effort as possible. The following Chrome extensions will save you time and make your life a lot easier! However, it's important to remember that the more extensions you use, the more resources your computer will use, potentially causing slowdowns (especially on low-performance computers).
I've purposely chosen not to go into too much detail about each expansion so that I can introduce as many of them as possible and pique your interest. Therefore, I recommend you to learn more on your own and according to your own needs.
* = tested and approved
1) Linkclump*
Despite the essential needs that have manifested themselves since ancient times and through humanity, I have never, ever, found an extension so simple and effective. But what does he do? Well, it's very simple! Allows group opening of connections.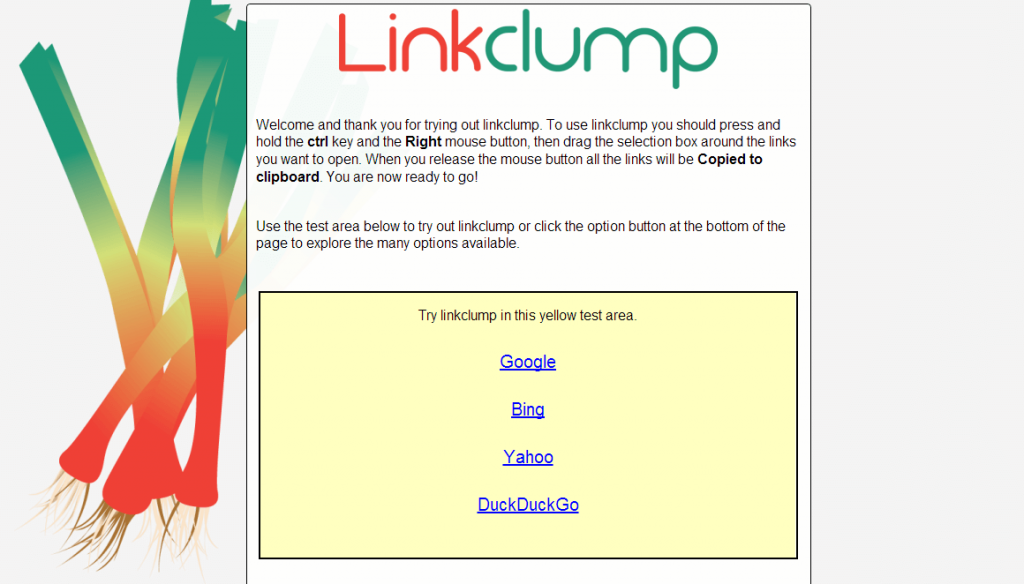 You can open all links, even image links, content in the selected frame, all with one click by pressing the button (for my part "CTRL") and selecting with the mouse!
It is here to discover it.
2) Stopwatch*
Complete, simple and effective, Chrono lets you manage all your downloads: pause, resume, cancel, restart, sort, filter, delete.
But that's not all… the extension also offers a web page element manager. Called Chrono Sniffer, this option lists all elements on a page, whether images, videos, or documents, allowing you to read their descriptions and download them (very useful for web businesses!).
It is here to discover it.
3) Dark Reader*
Tired of hurting your eyes at night? Dark Reader is made for you, changing the display of any web page by giving you an evening-friendly version with a configurable dark or light theme.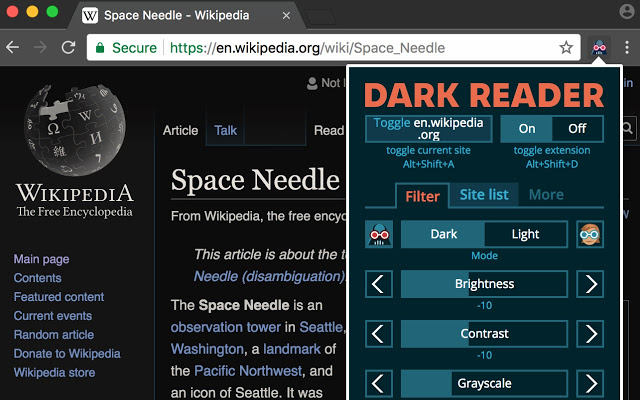 Note that many sites like Youtube offer a dark version of their service's screen (use dark Youtube and you'll instantly fall in love).
It is here to discover it.
4) Reader of Mercury
Read the basics of a page, no banners, no extra elements, just the basics. Ideal for reading news sites or articles.
It is here to discover it.
5) iridium*
Youtube is better! This brilliant extension gives you the option to configure YouTube according to your habits and your convenience, and also offers reverse playlist playback. (ideal for starting to watch all the videos of a topic or channel in chronological order), playing pop-up videos (ideal for playing music) and finally playing the video while browsing the page (ideal for reading comments and continuing to watch the video).
It is here to discover it.
6) Youtube Subscription (Collection) Manager*
What feature doesn't exist on Youtube, but was removed a few years ago? Popular subscription management. Thanks to this extension, you will be able to create collections of your subscriptions according to your wishes, add icons to them and watch the latest videos posted by the channels in it.
It is here to discover it.
7) OneTab* / Tabli* or Session Buddy / GraphiTabs*
What is Chrome really missing? Tab management… Coming soon here are 3 types of extensions:
OneTab : backs up all your icons on one page, you can easily group, name, restore and delete them.
Tip: Very useful for quickly saving your recent bookmarks and keeping up with your activity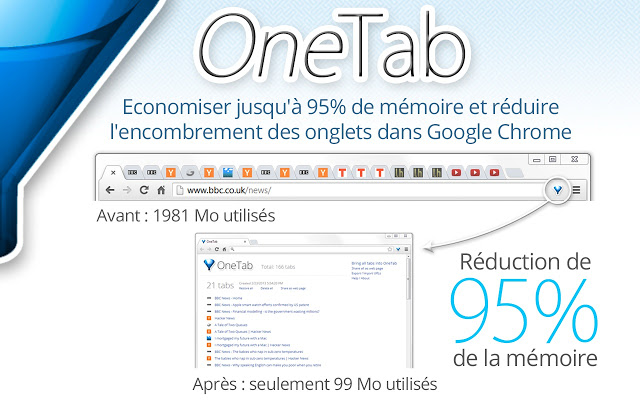 It is here to discover it.
Table or Session Friendly : a tab manager that does everything OneTab does, but in more detail. Session Buddy likes Tablin nicer but with more steps.
Opinion: Better than OneTab, but slower to use
It is here to discover it.
It is here to discover it.
GraphiTabs : Like Tabli, but in graphical version.
Opinion: Nicer than Tabli, but slower to use
It is here to discover it.
Bottom line: if you want post-its, get One Tab, if you prefer a workbook, Tabli or Session Buddy, if you prefer police investigation tables in movies, get GraphiTabs, and if you hesitate, be stupid like me and get all three.
8) The Great Hangman *
The best of the best in resource saving, icon management and battery! Large Hanger suspends your inactive tabs after a certain amount of time or upon user request, ideal when you like multiple tabs and windows.
It is here to discover it.
9) Change icon size*
Do you like to multitask? Like listening to music or watching a video while reading an article online? Tab Resizing separates your tabs in the screenshot in a simple and uniform way.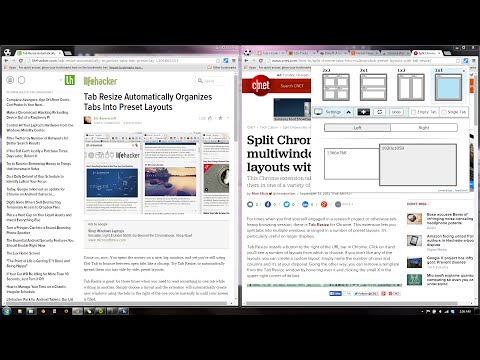 It is here to discover it.
10) Fireshot* / Nimbus screenshot
These extensions allow you to capture screenshots and edit them more easily. FireShot lets you capture the entire page, just the visible part, or a selected area, then save them anywhere (as an image or pdf) or send them to you via email.
Nimbus Screenshot does the same thing as FireShot, but also offers video recordings of web pages.
It is here to discover it.
It is here to discover it.
11) Hover Zoom
HoverZoom makes image preview universal and thus makes your navigation easier. Simply hover over the image to see it more clearly through the preview.
It is here to discover it.
12) TinEye
Have you ever wondered where the pictures you see while surfing the web come from? TinEye is an extension that looks for the origin of an image and everything that comes from it, so even "memes" yes…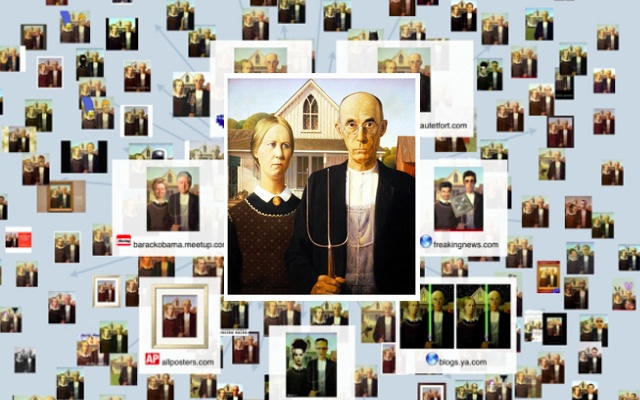 It is here to discover it.
13) Naphtha project
We were talking about "the same", right? Do you happen to have gaps in English? Too lazy to retype text in Google Trad? Project Naptha does this for you as it allows you to translate text embedded in images.
It is here to discover it.
14) Turn off the lights* / Magic moves
If you're the Sami of your living room light, this is the Sami of your screen light
No more squinting to watch a video without worrying about everything around you, no more squinting at ads or colorful banners cluttering up your video player.
The Dim Lights feature puts your video player in focus by dimming all surrounding content.
Magic Actions does the same and offers colored lights that cover all the boundaries for a stylish effectas well as other features to enhance your Youtube experience.
Small clarification, Turn off the lights is universal, unlike Magic Actions, which only works on Youtube, but offers much more.
It is here to discover it.
It is here to discover it.
15) Black Menu*
All the environment and features of Google applications in one menu.
It is here to discover it.
16) Wikiwand*
Or better yet, Wikipedia. Wikiwand is an extension that automatically redirects all your Wikipedia links to Wikiwand links. But what is it for? good this site improves your user experience on Wikipedia by offering more tailored and customizable reading, better link management, more complete search functionality, and easier image browsing. (especially through the gallery).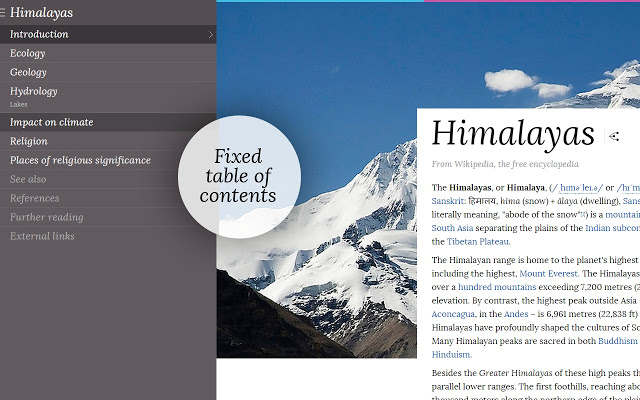 It is here to discover it.
17) Goo.gl
Do you know Goo.gl? This Google service allows you to shorten your links to make sharing easier. This extension makes it easy to use this service with one click.
It is here to discover it.
18) Panda 5
If you like to keep track of the news or your favorite sites on a daily basis, Panda 5 is for you. It's a fully customizable dashboard that can easily and effectively display the latest news from the sites you follow.
It is here to discover it.
19) Keepa
The equivalent of a scholarship to Amazon! Track the price fluctuations of the products you want to buy on Amazon's various sites around the world and get notified when a good opportunity arises!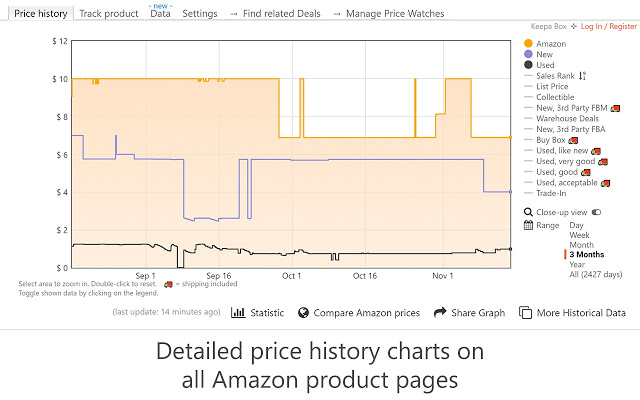 It is here to discover it.
20) Breadth
Now that I've introduced you to extensions to better manage your web browsing, you may need an extension to manage your extensions! With Extensity, you can enable/disable extensions easily and convenientlycreate extension groups and have multiple usage profiles.
It is here to discover it.
Feel free to support the extensions you use, some even offer to send you a donation!