Japan GP: When Formula 1 takes to the water
In general confusion, Verstappen became the F1 world champion. In the middle of the Renaissance, discipline nevertheless made itself stupid.
By Florent Barraco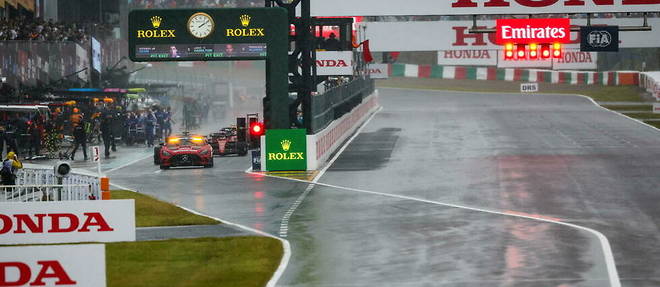 has been published
– Changed


Link copied
Copy the link

MThe greatest successes have such a "but". We rightly appreciated the successful revolution of Formula 1. New charismatic drivers, modernized game rules, tension… The discipline experienced a real renaissance after being taken over by the American giant Liberty Media. But there is a but". After last year's Grand Prix simulacrum at Spa in Belgium, Formula 1 faced a new episode this Sunday in Japan: "Let's drive in the rain". Or rather: let's not drive. Light, but regular, and then tight to the legendary Suzuka circuit it rained. Unlike Spa, the start was actually given, but the "race" was cut short after Carlos Sainz's crash. For two hours, the single seats were kept in the pit lane and there was waiting and waiting. The rain eased, then picked up again, then eased… 120 Minutes later, a forty-minute grand prix began with an incomprehensible result: all points were awarded, allowing Verstappen to win the title of world champion for the second time.
Rain, the salt of F1
This new joke shows the reluctance of models and pilots. The weather conditions were difficult, but not impossible. Especially considering the past. How many grand prix have been held with more rain? Our memory is filled with epic races in which circuits were flooded, such as Spa in 1998, Monaco in 1982 or 1996 or the legendary downpours in Brazil.
It is in these moments where the distinctions between engines and single seats are erased, that the greatest drivers in F1 history shine. Ayrton Senna, Michael Schumacher, Fernando Alonso or Jenson Button showed all their talents and danced in the rain. Artists reveal themselves on a wet road. Disappointments too: In 1998, Michael Schumacher lost the championship to David Coulthard; Vettel sees his good run at Hockenheim 2018 come to an end and his confidence damaged… Let's not talk about incredible comebacks and unexpected wins. In short, rain is the salt of F1.
READ ALSOFormula 1: "We can expect everything, this season will be crazy"
Thailand's Alex Albon made a very symbolic statement after his retirement: "These are the worst conditions I've ever experienced in my career. Of course, we want to escape, but at what cost? This is a big change for this "Netflix generation": no risk, long live the precautionary principle. Driving in the rain is perhaps the essence of the job: you drive your single-seater, you assess the risks to be taken, you play with zones. This is no longer the mindset of these speed giants.
Of course, the issue of safety remains paramount, especially after Jules Bianchi's fatal crash at Suzuka in July 2015 eight years ago, following the injuries he suffered after months in a coma. The French had hit the tap. Pierre Gasly was seen driving a truck at 200 km/h on the track this year. But this sport likes to flirt with risks. Otherwise, it's not motorsport anymore.
How do we make it clear that we never want to see a crane on the road?

We lost Julie because of this mistake.

What happened today is totally unacceptable!!!!!

I hope this is the last time I see a crane on the road!

— Sergio Perez (@SCHecoPerez) October 9, 2022
wtf. How did that happen!? Years ago, we lost a life in this situation. Especially in such conditions, we risk our lives. We want to compete. But this is… Unacceptable.

—Lando Norris (@LandoNorris) October 9, 2022
Let's propose that Formula 1 adopt a new rule: at the smallest drop of rain, we rally. And on to the next GP. It's a cruel decision, but it's worth not having to keep the fan waiting for hours for the rain to stop. And it will also make it possible to have one rule that doesn't change from one Grand Prix to another: how many points are awarded? how far to run When does GP stop? what kind of start?
It was thought to be the owner's mantra "Let them compete" ("Let them run") would provide overtaking, fights, rough blows, in short, spectacle. But there is always a "but" …